Week Eighteen
Day One Hundred and Twenty – Monday 1st July 2013
Spot Free Days = 4
Looking good.
No eye drops needed today – my eyes feel fairly normal just tired from a fab weekend away in the fresh sea air.
Day One Hundred and Twenty One – Tuesday 2nd July 2013
Spot Free Days = 5
All good today, no spots.
Just dry lips and dry inside nose.
I have a dry grazed patch on my arm and on the top of my foot. (see photos) I had a T-shirt on for work today and a couple of people asked what happened to me when they saw the graze on my arm. It was easy to explain as they know about my Roaccutane experience. I should have told them some wild story of rescuing someone and grazing my arm being a hero!

Day One Hundred and Twenty Two – Wednesday 3rd July 2013
Spot Free Days = 6
Feeling good today and feeling confident that this time I will go the whole month being spot free! Positive thinking is key!
Hello, Allan here, Andrea's boyfriend. I had to write on Andrea's blog today to tell you all something. We went out this evening for a meal in a lovely Italian restaurant to celebrate Patrice's (Andrea's son) Graduation from Secondary School. Anyway, the food was great and we had a lovely time. Then, when we asked for the bill, the waiter brought us over an after dinner complimentary liqueur. As it was alcoholic (25%), Andrea wasn't allowed to have it as she hasn't touched a single drop since the 4th March when she started taking her Isotretinoin. But… when she saw that it was lemon flavour (which is her favourite) she couldn't resist it and so she broke all the rules and drank it!!! NAUGHTY!!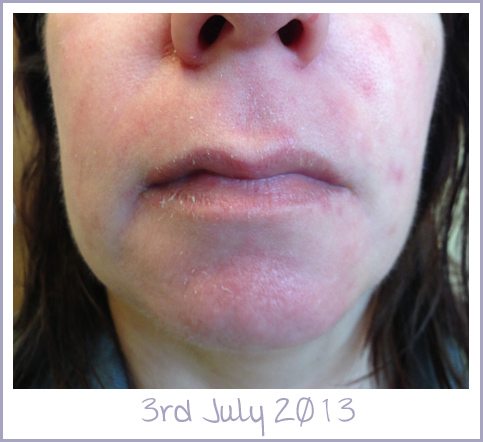 Day One Hundred and Twenty Three – Thursday 4th July 2013
Damn!! Counter back to zero again, I've got a small pimple on my face! Not massive and not a really angry cystic spot like they used to be but a pimple nevertheless. I had a small amount of white flakey skin on my chin this morning, that's just Roaccutane reminding me it's still doing it's job! And what a good job it is doing!
Day One Hundred and Twenty Four – Friday 5th July 2013
Pimple still there today 🙁
Other than that everything else pretty much the same.
Summer has finally arrived with 30 degrees Centigrade today. No going outside for me though!
Day One Hundred and Twenty Five – Saturday 6th July 2013
Spot still there! It's gotta go!
I'm starting to feel better about my hair, it's still dry but maybe I'm just adapting to it and coping easier? I can't wait for my lovely silky hair to come back, I've seen some old photos and that reminds me what it was like before.
This morning I was suffering badly from hayfever, I thought I'd grown out of it as I haven't suffered much in the last couple of years. Could it be that because the Isotretinoin has dried my nose up, it is more sensitive to the pollens? I took some hayfever tablets but they didn't work. What actually happened was that my 'hayfever' was really a Summer cold in disguise! I have sneezed, blown my nose and had a horrible sore throat constantly all day. What I wouldn't give to have a dry crusted nose again!
I am loving my healthy long nails with no cuticles!
Lots of Vaseline tonight on my red raw nose!
Day One Hundred and Twenty Six – Sunday 7th July 2013
Not much to say today; I've just been suffering with my cold and going through one box of tissues after the other! Ideal day to lay on the sofa and take it easy – It was the Wimbledon Mens Final today… Andy Murray won in 3 straight sets! Excellent Tennis!